Richfield Sr High School
Class Of 1983
ANNOUNCEMENTS
The Richfield High School Quarterback Club is having its first annual golf fundraiser Aug 1, 2020 at Boulder Pointe Golf Club Elko MN
Sponsorship Letter and Registration Form for 1st Annual Richfield Spartan Football Golf Tournament Attached.
Please contact Coach Kris Pulford at kristian.pulford@rpsmn.org or QB Club President Lisa Thompson at jljlethompson@gmail.com with questions.
We hope you can join us for 18 holes of golf, dinner and fun!
If you are interested in golfing, contact Gary Fischbach at the "contact us" link on the side of the page. It would be nice have our class represented. If you'd like a PDF of the form, contact me.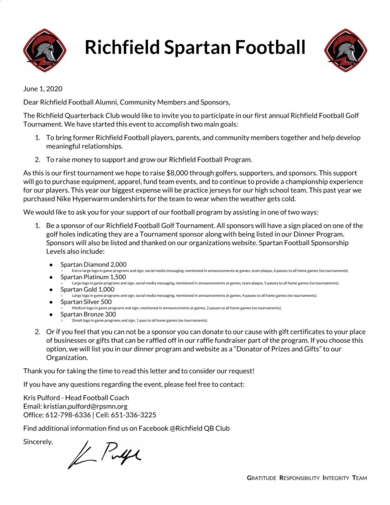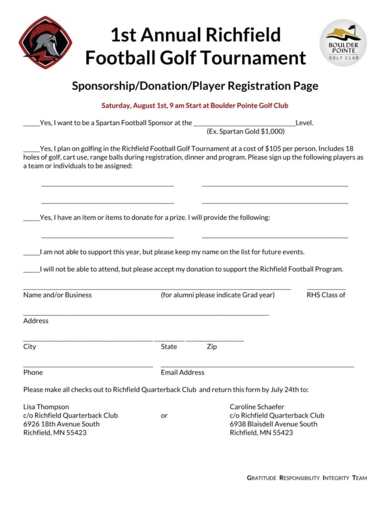 THANK YOU!
To all who were able to attend our 35th Class Reunion!
It was great to see and catch up with so many classmates who we haven't seen in a few years.
Watch our FaceBook Group Page for more upcoming events and small gatherings that we may pull together.
We will also keep you posted on news of the 40th Reunion!
See you all soon :)
WHO? All Richfield Class of 1983
WHAT? Our 35th High School Reunion
WHEN? Saturday August 18, 2018
WHERE? Bloomington Event Center, 1114 American Blvd W, Bloomington, MN
WHY? Why Not
TIME? 6:00pm to Midnight unless you want to play golf then it starts earlier ;)
COST? $30 per person (golf is extra)
Please join us for a night of Fun, Games, Music and Memories
What we can share with you now: there will be appetizers and a cash bar. There may or may not be some classic games and music from the 80's.
We are also hosting a day of GOLF early that day.
If you would like to join in contact Brad Cook.
Watch this website for more information and possible hotel deals!
Your Reunion Committee!
Welcome, this is the official website for the Class of 1983 Richfield High School. This site is developed by RHS 1983 alums and is not part of any other organization. We encourage you to set up a log in and update your profile. You can choose how much or how little of your information is shown to the public. The 30 year reunion committee will use your e-mail for keeping you updated for the upcoming reunion. We will not be sharing your email address with any outside parties.